Rhode Island journalists react to Dem Governor Gina Raimondo's comments about their reliability.
At Brown University Raimondo let slip how she really felt about the press.
After lashing out at Rhode Island's press corps for not giving her the positive media coverage she desired, Democrat Governor Gina Raimondo spent yesterday facing intense criticism from journalists around the state, and was eventually forced to apologize. Raimondo found herself in hot water after she singled out NBC's Rhode Island affiliate for setting up a "fight motif" in her weekly interviews, and then said that Rhode Islanders "can't rely" on the Providence Journal for accurate news. The debacle has put Raimondo's growing frustration over her administration's lack of results on full display as she blames journalists for not being softer on her.
Alan Rosenberg, Executive Editor of the Providence Journal had some strong words for Gina Raimondo after her true feelings about Rhode Island's press came to light Tuesday.
"If the governor has a hard time getting her point of view across, that's pretty stunning, considering the 73 public-relations staffers on the state and state-college payroll, at a cost of $5.4 million annually (as reported by Kathy Gregg last month,)" said Rosenberg. "More meat in the press releases, as opposed to contrived events celebrating the governor's accomplishments, might help.'"
On Wednesday, the governor apologized in a statement, saying "[I] regret my characterization of Rhode Island's media outlets and apologize to reporters, editors, and publishers who I offended."
Still, Raimondo's apology only came AFTER she doubled down on her comments when asked by WJAR-TV.   
See more reactions from members of the Rhode Island press below in the days that followed: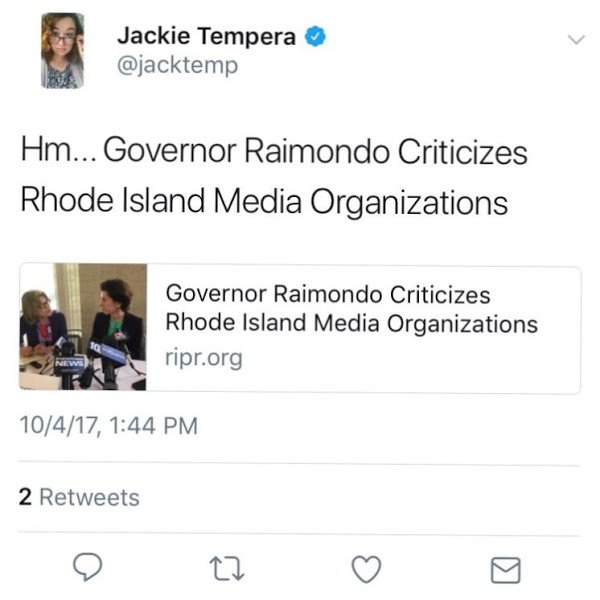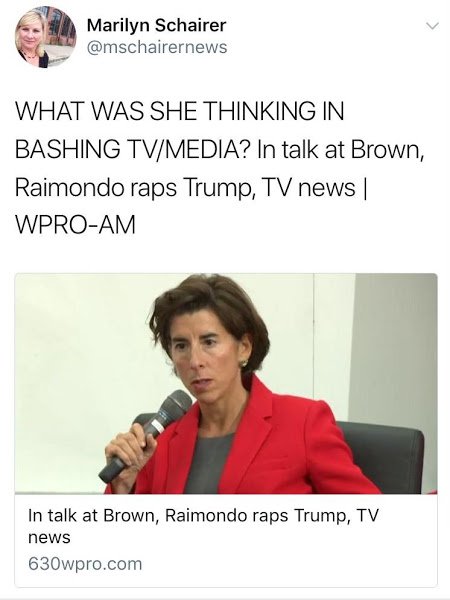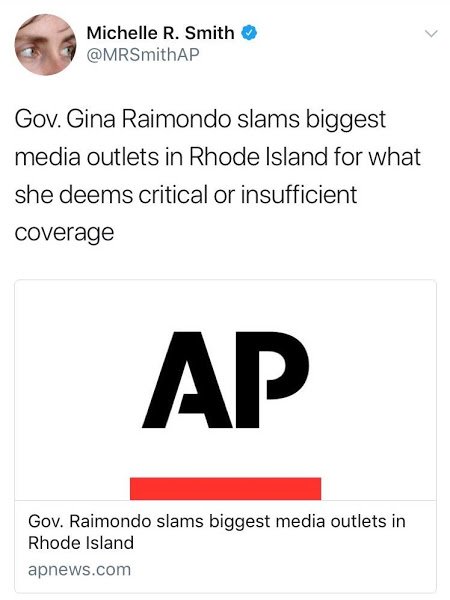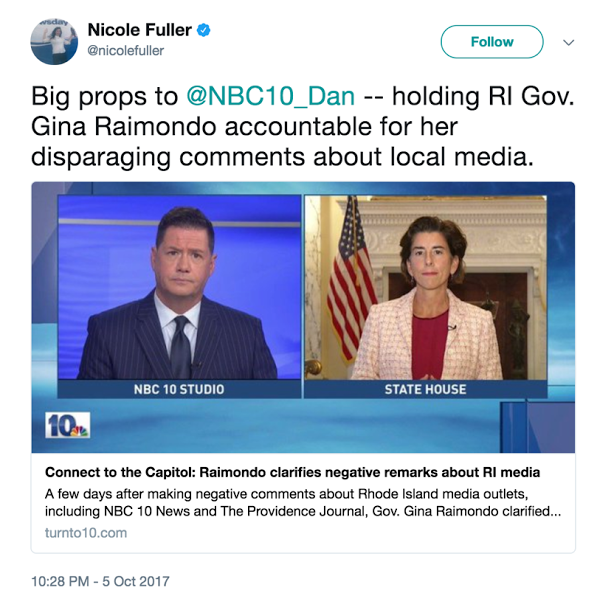 Raimondo is clearly only apologizing due to the wave of criticism she took across Rhode Island for attacking her home state's press corps. Raimondo's botched attempt at damage control only raises further questions for a politician with serious image problems, 13 months away from Election Day.