After what may have been the worst week yet of his campaign for governor, Ralph Northam has become a growing cause for panic among Democrats. With news breaking yesterday that the Democratic Governors Association is flooding even more money into his campaign amid falling poll numbers, divided base voters, and an embarrassing scandal involving his running mate, Northam now finds himself in an increasingly dire situation, stoking fears that he could cost the Democrats the governor's mansion in November.

Northam appeared on NBC News yesterday to conduct damage control, but ended up creating even more problems for campaign. Hallie Jackson grilled him on trying to "have his cake and eat it too" regarding his flip-flop on President Donald Trump, running TV ads calling him a "narcissistic maniac" while also running others claiming he'll "work with him." Jackson went on to ask Northam about his decision to distribute campaign fliers promoting the Virginia Democrat ticket that excluded his running mate, Justin Fairfax, at the request of a union that endorsed Northam, a decision that some have labelled "subtle racism." But Northam refused to apologize, saying the issue was "between the union and him," ignoring the fact that it was his campaign that distributed the flier.
HALLIE JACKSON: "So you've said you'll stand up to Donald Trump, you've also said you'll work with him. In the primary you had an add that called the president a narcissistic maniac. So which is it, is Donald Trump a narcissistic maniac or his somebody you're gonna work with."
RALPH NORTHAM:"Well I certainly stand by what I said, and there are issues in Virginia."
HALLIE JACKSON: "But which part though, you've said both things."
RALPH NORTHAM: "Well things like the detrimental policies that are coming out like the travel ban, that's doing nothing more than provoking fear mongering in Virginia, that's not what Virginia's about. We can't have that, healthcare that's going to take up to thirty million people off their policies. So there are things that I'd be glad to defend Virginia and stand up for. If Donald Trump wants to build up our military, we build up the best warships and submarines right there in Newport news, if he wants to guarantee us we won't have another sequestration. Those are good things for Virginia so I will work with him when I can."
HALLIE JACKSON: "So you stand by sort of both things you said because I think to some it sounds like on one hand you want to be the resistant candidate, on the other behind the scenes you're going to shake his hand and work with him. Is that accurate?"
RALPH NORTHAM: "I'll work with him when I can work with him, and I think that's been the case for governors in the past."
HALLIE JACKSON: "Can you have that cake and eat it too?"
RALPH NORTHAM: "Oh absolutely. I think previous governors have, and again if there's we can work on then I will. You know, when they're detrimental policies, again. Healthcare, you know, we want to make sure all Virginians have access to affordable and quality care, and no individual, no family, should be one medical bill away from financial demise. We can't let what's happening in Washington affect us here in Virginia."
…
HALLIE JACKSON: "And I want to give you one opportunity to address a controversy that has popped up recently which is, Mr. Fairfax being left off some flyers, and flyers that are run by your campaign. Black Democrat, a lot of people have taken some exception with that."
RALPH NORTHAM: "Well we have a great ticket, and Justin Fairfax, Mark Herring and myself, and we're running a unified campaign…"
HALLIE JACKSON: "So why wasn't Justin Fairfax on that flyer?"
RALPH NORTHAM: "That was with an endorsement from one of the Unions and that's between the Union and him, but I would just say that we're unified, we're focused on November the 7th, We're excited about Barak Obama coming tonight, and we're going to win, the three of us on November the 7th."
NBC News also highlighted Northam's sliding poll numbers, particularly the latest Monmouth poll that not only showed him trailing Republican Ed Gillespie, but also revealed Northam lagging by double digits on key campaign issues such as crime and the economy: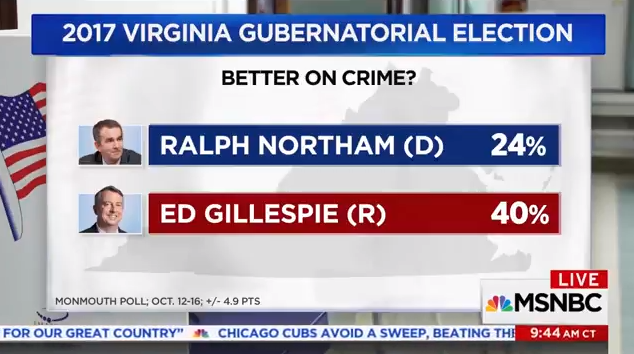 And as Northam struggles to right the ship for his campaign, Democrat panic has quickly become the dominant headline of the race's final weeks while the party finds itself increasingly divided and less confident of victory, POLITICOreports:
…Democrats are growing increasingly anxious about the too-close-to-call campaign. While Northam has held leads ranging from a few points to double digits in most polls, the first survey in months showing Gillespie with a 1-point edge came out just weeks before Election Day — and in any case, after overconfidence in 2016, almost no polling lead could relieve Democratic worrying. Some in Northam's party are concerned about his campaign's decision to outsource its digital advertising to outside groups. And others were dismayed to see the campaign leave the party's black lieutenant gubernatorial nominee off some fliers distributed by a union…

"People's anxiety comes from the fact that the Democratic coalition doesn't always show up in these off-year elections, and there's an erosion of confidence in polling," said former Rep. Tom Perriello, who lost to Northam in the Democratic primary in June. He described the mood in the party as 'anxious optimism.'

Meanwhile, Northam is encountering problems with his own base. Liberal groups criticized his campaign for leaving Justin Fairfax, the party's lieutenant governor nominee, off literature distributed by a union that was backing Northam but not Fairfax because of the latter's opposition to two pipeline projects…

"It is sad, disturbing and disheartening that efforts to elect Democrats led by progressive partners would intentionally exclude the only black candidate on the statewide ticket, especially when black voters were so critical to Democrats winning statewide four years ago," said Quentin James, the founder of Collective PAC, which backs African-American Democrats. James' statement called the decision "subtle racism."