Tonight, Virginia Democrat gubernatorial candidate Ralph Northam will hold a fundraiser with Minnesota Congressman Keith Ellison, embracing his far-left, extremist views. This move should alarm Virginia voters and raises serious questions on why Northam chose to associate himself with the radical Congressman.

In a speech earlier this year, Ellison gave his full-throated support to income redistribution, claiming that the government should "redistribute" the wealth in this country.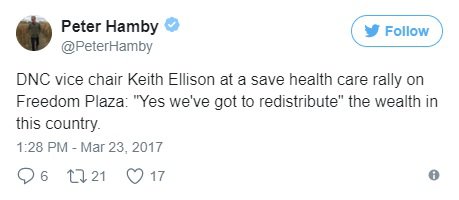 With Northam's refusal to release a full tax plan despite running misleading ads that ask voters to look up his proposals, Virginians are quickly realizing that Northam may push the same left-wing policies that Ellison has advocated for. If Ralph Northam is going to accept Keith Ellison's help on the campaign trail, voters deserve to know if he stands with his radical anti-jobs agenda.
Previously: