New York Gov. Andrew Cuomo, a New York City native, raised eyebrows last week after he claimed that he was an illegal immigrant and taunted officials to deport him.

"I'm undocumented. You want to deport an undocumented person, start with me because I'm an undocumented person," Cuomo, 60, said during a bill signing.

During the bizarre speech, the New York governor criticized the "extreme conservative movement" for being "anti-immigrant." He said his family, who emigrated to the U.S. from Italy, was constantly ridiculed with a racial slur that he said meant "without papers."

...

A day earlier, Cuomo addressed a group of union workers and said he was "raised by poor immigrants from South Jamaica," a neighborhood in Queens, New York. His father Mario, a three-term governor of New York, was born in Queens to Italian immigrant parents. His mother, Matilda, was also born in Queens.

Immigrant advocacy group Make the Road Action has called on Cuomo to apologize for the comments.

"To Dreamer and immigrants like me, these fabrications are offensive," Make the Road Action member Antonio Alarcon said in a statement, adding that the governor "has no idea what it's like to live as an undocumented person."
Even Dictionary.com called Cuomo out on Twitter: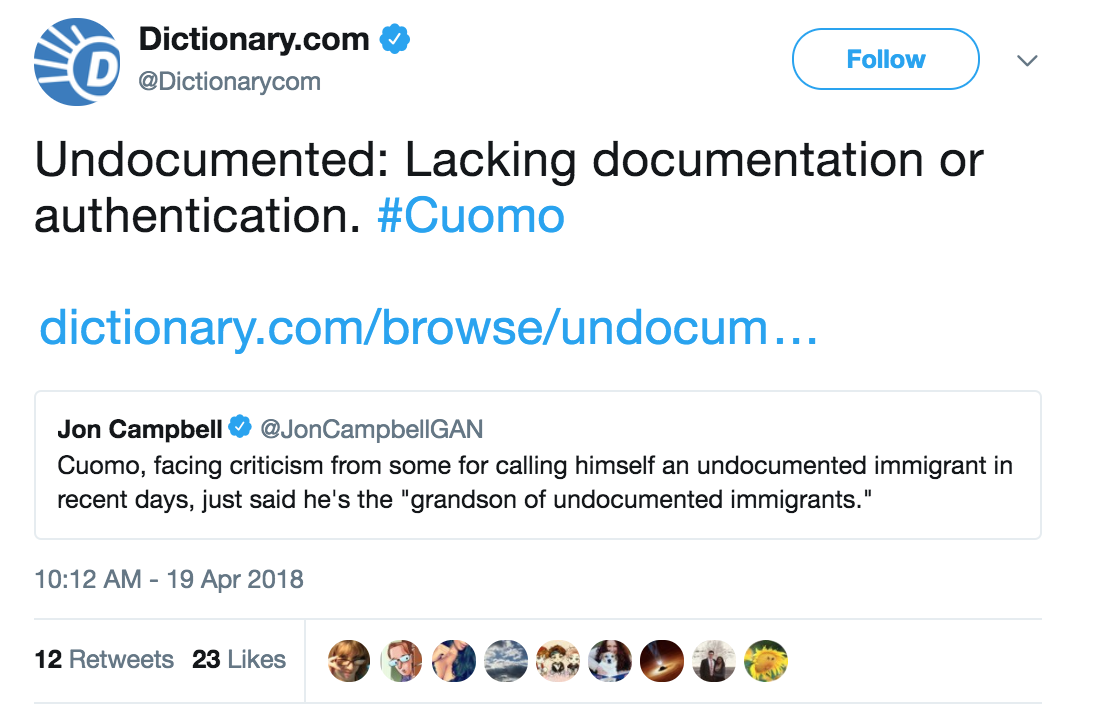 Immigrant-advocacy groups quickly rejected the governor's claim of solidarity.

"His parents weren't immigrants, his family wasn't poor, & he has no idea what it's like to [be] undocumented," said Antonio Alarcon of Make the Road Action, New York's largest immigrant-rights group. "Governor Cuomo's recent pattern of falsehoods and exaggerations about his life story is a sad and disturbing turn of events for New York. It's disturbing because it serves to diminish and undermine the very real struggles of millions of New Yorkers."

Cuomo, a self-proclaimed "middle-class guy," was born to former governor of New York Mario Cuomo, who was a successful lawyer before he entered politics. Cuomo's salary as governor is currently $179,000, and he lives in a home worth more than a million dollars. As he gears up for a tough primary against actress Cynthia Nixon, Cuomo has shifted to the left on several issues, including immigration, in an effort to appeal to the progressive base.