For months, national Democrats have claimed that they "will almost certainly win" back the governorship in New Mexico.

But with these Democrats assuming the race is a foregone conclusion, many have chosen to ignore the deep concernsNew Mexico Democrats have about their current frontrunner, Michelle Lujan Grisham.  These New Mexico Democrats recognize that Lujan Grisham's support of Nancy Pelosi's far-left agenda and her hyper-partisan approach to governing ultimately won't play well in the state.

But now, even Lujan Grisham herself is being forced to concede that the race is "razor close" with "polls tied."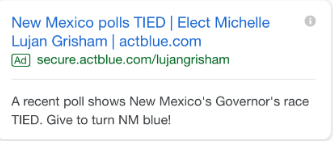 With Democrats potentially stuck with Lujan Grisham, many are likely going to regret taking the state for granted.
Previously: