North Carolinians cannot count on Roy Cooper to keep them safe from violent rioters destroying private property and threatening law enforcement officers.
When violent rioters took over the streets of cities across North Carolina, Cooper failed to activate resources available to him to take immediate action and put an end to the looting and lawlessness. Instead, Cooper sat in his mansion, allowing mobs to take over the streets and hurl projectiles at police officers, and urged people to not "focus" on the property damage caused by violent rioters – a direct slap in the face to small business owners who poured countless dollars, time, and effort into pursuing their piece of the American Dream.
For three years in a row, Cooper put political games with the North Carolina General Assembly ahead of the hardworking men and women of law enforcement when he vetoed billions of dollars for public safety. Recently, he refused to provide members of the North Carolina Police Benevolent Association a seat at the table on his task force on policing and criminal justice reform.
"North Carolinians deserve a governor who will take a clear and compelling stand against the violence, looting, and destruction of property perpetrated by violent mobs and agitators," said RGA Communications Director Amelia Chassé Alcivar. "Governor Cooper has emboldened violent rioters and jeopardized the safety of communities across the state. Simply put, Roy Cooper has failed North Carolina."
As Violent Rioters Destroyed Property In Cities Across North Carolina, Roy Cooper Sat Idly By

The News & Observer Headline: "For A Second Day, Violence And Destruction Follow Peaceful Protests In Raleigh"


Following Violent Protests In May, Raleigh Police Chief Cassandra Deck-Brown Stated That The Actions By Rioters Were "Disgusting And Unacceptable." "Raleigh Police Chief Cassandra Deck-Brown said Sunday morning that the violence and looting overnight downtown was 'disgusting and unacceptable.'… Deck-Brown condemned the actions by looters and agitators who overshadowed peaceful protests calling for change. 'The actions of the violent, lawless crowd that damaged our city and attacked officers and assaulted officers last night was disgusting and unacceptable,' Deck-Brown said 'These actions tarnish the message of those who peacefully demonstrated.'" ("Raleigh Police Chief Deck-Brown Calls Violence 'Disgusting,' Vows More Arrests," ABC 11, 5/31/20)

Violent Protesters In Raleigh "Threw Fireworks, Rocks, And Waters Bottles At Police," And Damaged Storefronts. "Protesters threw fireworks, rocks and water bottles at police and vandalized several downtown businesses. At least one protester was arrested, a Wake County sheriff's office spokesman said… Virtually every storefront in the area with glass windows had at least some damage." (Carli Brosseau, Ashad Hajela, Aaron Sanchez-Guerra, and Lucille Sherman, "Protesters, Police Clash At Raleigh Protest Of Floyd's Death; Buildings Damaged, Looted," The News & Observer, 5/30/20)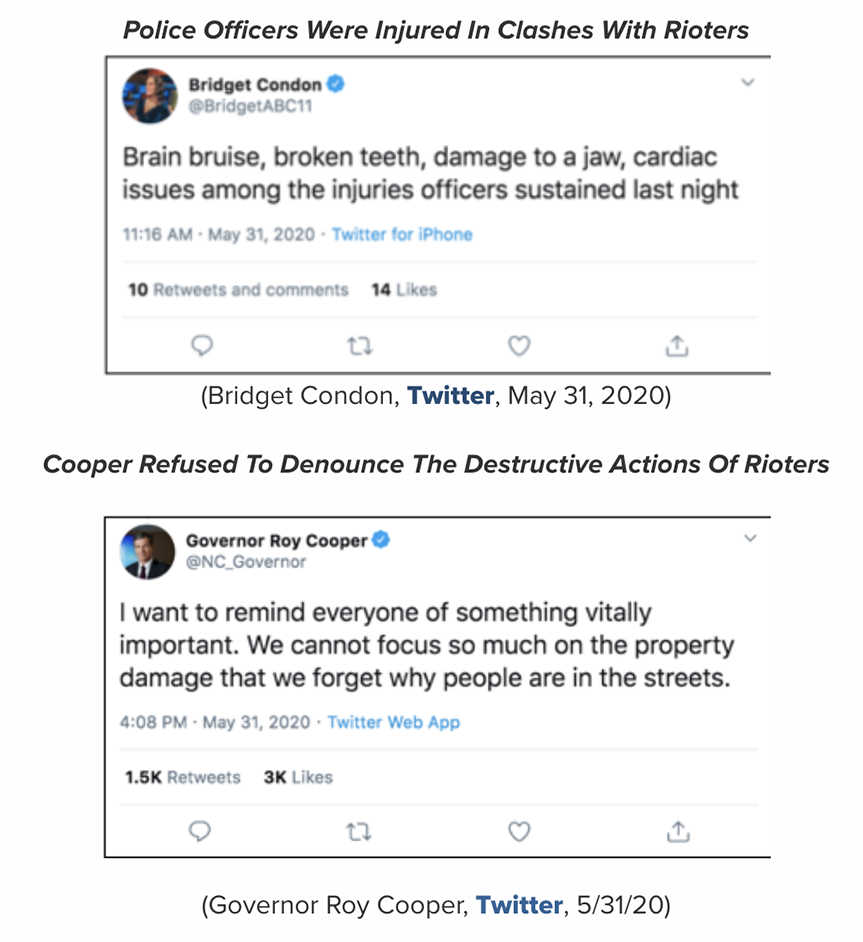 Cooper Faced Criticism For Not Fully Mobilizing The National Guard Or Issuing Curfews In Response To The Rioting

Cooper Was Criticized For Refusing To "Step Up" And Take Action To Curtail Riots. "Moore, who is from Kings Mountain, said Cooper should fully mobilize the National Guard and deploy soldiers in Charlotte, Raleigh and other cities. He also said Cooper should issue curfews for cities that have been impacted by violence. ''Where we know there's been unrest, the governor needs to step up and do the right thing and call for those curfews,' Moore said. 'We have so many resources, we have so many resources that for two nights were unused that were on the sidelines. That is unacceptable.'" (Steve Harrison, "NC GOP Leaders Say Cooper Response To Protests Is 'Failure' And 'Unacceptable,'" WFAE, 6/1/20)

North Carolina's Senate Leader Blamed The Rioting And Destruction On A "Failure Of Executive Leadership." "Last night, North Carolina's capital city sustained widespread damage from hordes of rioters who set fire to the street and destroyed businesses – again,' Berger said in a statement. 'The destruction represents a failure of executive leadership at every level. Only a fool would think that permitting lawlessness on night one would result in different behavior on night two.'" (Steve Harrison, "NC GOP Leaders Say Cooper Response To Protests Is 'Failure' And 'Unacceptable,'" WFAE, 6/1/20)