Texas Gov. Greg Abbott has a new op-ed out in the Corpus Christi Caller-Times about Texans' resilience in the face of Hurricane Harvey. Writes Abbott:
No force of nature is more powerful than Texans helping Texans. That is what I witnessed first-hand on my tour of our coastal region Monday.

Though the unfolding scenes of unimaginable devastation and destruction in Rockport, Fulton, Port Aransas and across the entire Coastal Bend are truly heartbreaking, what stands strong is the character of our Texas family. In that, Harvey has met his match.

Like the more than 1,000-year-old Big Tree that still stands at Goose Island State Park, our roots run deep, our branches broad. And we will triumph over tragedy.

I am so proud of the dedication of all of our fearless emergency responders and of the armada of selfless citizens who have worked so tirelessly to rescue those in need. And I thank all those who followed evacuation orders and sought safety for their families. So many lives were saved.

Preserving life remains our first priority. That is why I have now activated the entire Texas National Guard to assist in ongoing search and rescue efforts for any Texans in immediate danger, and to help in extensive recovery efforts in the aftermath of the storm.



Abbott, who's been governor of the Lone Star State since 2015, also took to Twitter in the aftermath of Harvey making landfall to share powerful images from the recovery: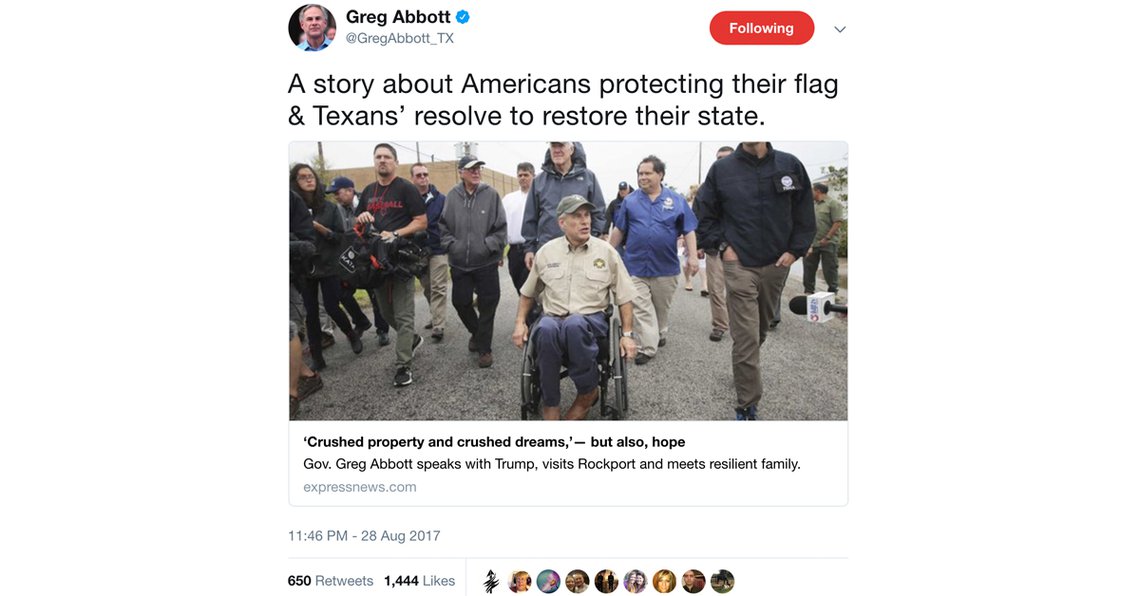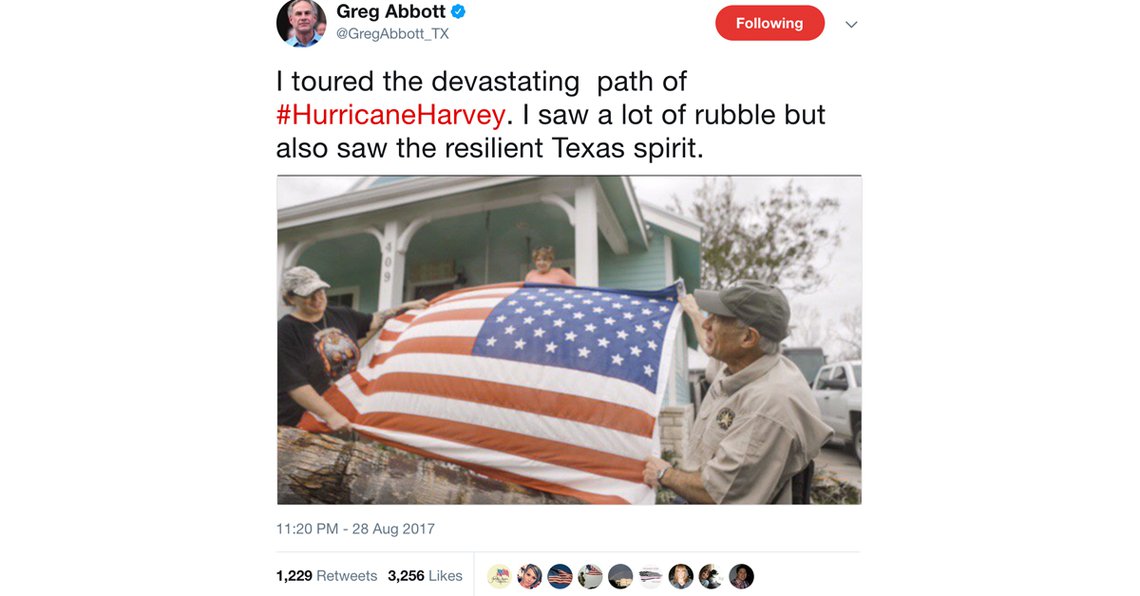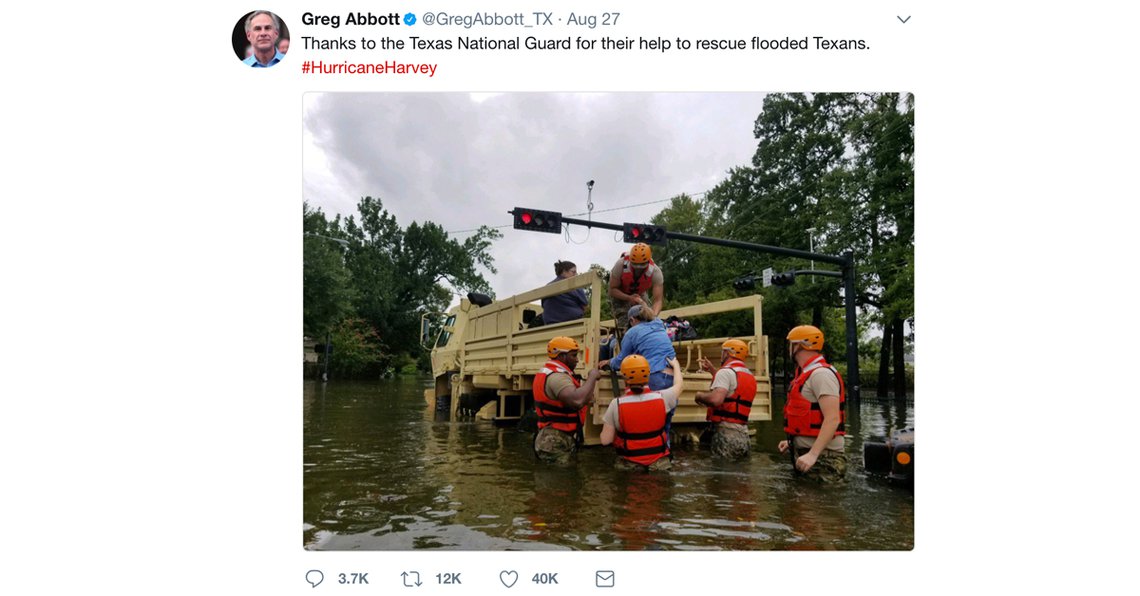 He even gave a shout-out to neighboring Oklahoma: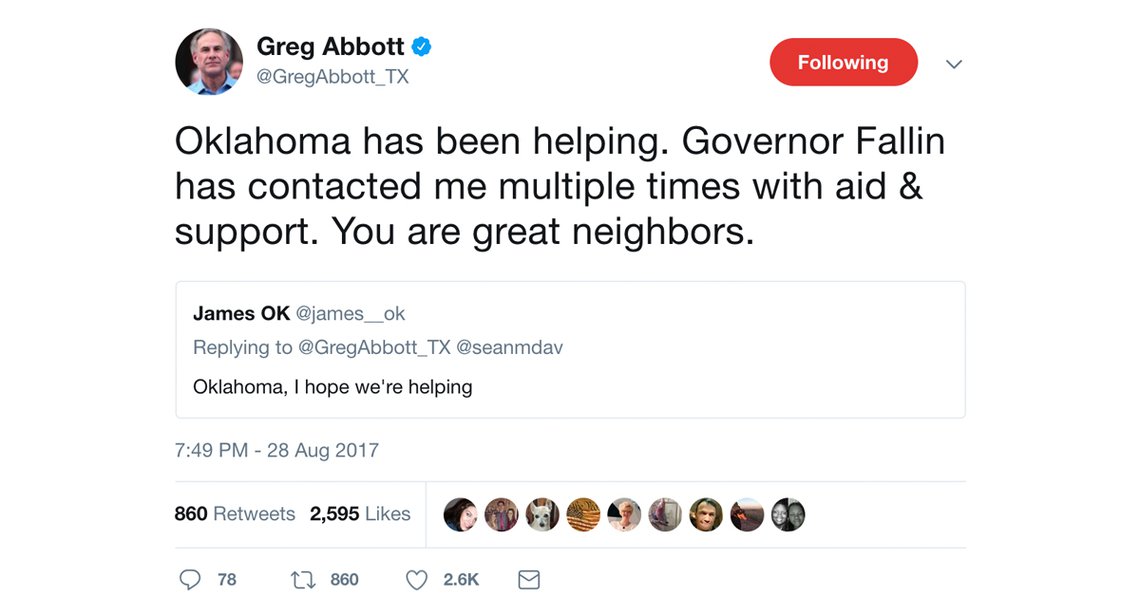 According to the National Weather Service, rainfall from Hurricane Harvey will be the "heaviest from any tropical cyclone in the continental U.S. in records dating to 1950…." In other words: Harvey has produced one of the worst flood disasters in U.S. history.