After a slew of embarrassing controversies and flip-flops for Democrat Virginia gubernatorial candidate Ralph Northam, more and more Democrats are throwing him under the bus in the race's final days. Last night, Democracy For America, a major Democrat grassroots group, declared that it would end "direct aid" to Northam, calling his campaign "racist" and blasting what it called Northam's "anti immigrant comments."
A liberal activist group on Thursday labeled Ralph Northam's campaign 'racist,' criticizing the Virginia Democrat running for governor a day after he declared that he would not support "sanctuary cities" for undocumented immigrants.

'Let's be really clear: If Ralph Northam wins next Tuesday, it won't be because he publicly backtracked on his commitment to protecting immigrant families, but in spite of it,' said Charles Chamberlain, executive director of Democracy for America, a grassroots progressive activist based in Vermont.

Chamberlain went on to say the Northam campaign was running "the same old, broken, and racist playbook that lost Democrats over 1000 elected offices since 2008."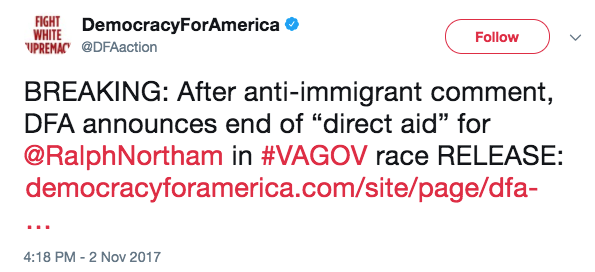 To make matters worse for Northam, Doug Wilder, a former Democrat Governor of Virginia and one of the party's most respected leaders in the Commonwealth, declined to endorse the Democrat gubernatorial candidate after announcing his support for Northam's running mate.
With the tightening race less than a week away, former Gov. Wilder joined Chuck Todd in the latest episode of 1947: The Meet the Press Podcast for a wide-ranging discussion about the state of Virginia politics. He continued to decline to endorse either candidate for governor this year, as he did in 2009 when he withheld his endorsement from Sen. R. Creigh Deeds, (D-Bath).

But Wilder did conspicuously heap praise on Justin Fairfax, the Democratic candidate for lieutenant governor. 
'You can tell from the way I'm talking that I feel very good about Justin Fairfax. I think that he's someone who's highly qualified,' he said. 'You don't elect people like him, then who are you going to have?'"

To add insult to injury, the notoriously left-wing blog, Think Progress, published a piece blasting Northam for his complete 180 on sanctuary cities, claiming his newfound opposition to them after voting against a bill that would've banned such policies moves him "one step closer to President Donald Trump: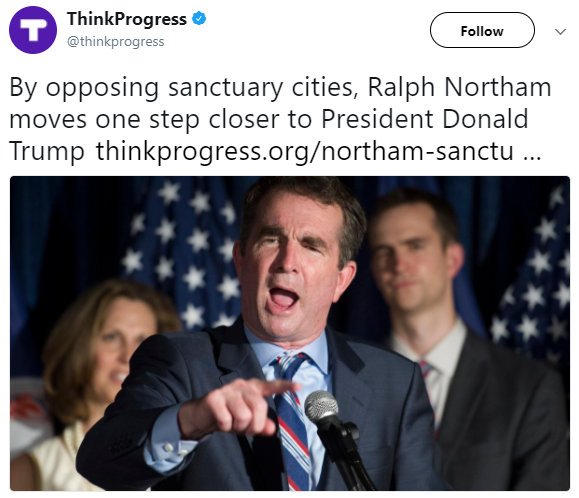 But these aren't the only major Democrat groups to abandon Northam down the home stretch of the campaign. Last week, Bernie Sanders' Our Revolution group announced it would sit out the Virginia governor's race and only back a handful of down-ballot candidates in the Commonwealth after having previously endorsed Northam's primary opponent, Tom Perriello. Northam has also faced eroding support from anti-pipeline Democrats throughout his campaign, who have protested his office openings, threatened to withhold votes from him, and even booed him at campaign events.
As Northam deals with a list of controversies that continues to grow with each passing day, including fallout from a race-baiting ad his campaign coordinated messaging on with Latino Victory Fund that has now been pulled, even members of his own party are running to the exits on his flailing campaign.
Previously: