The celebrity, Emily Ratajkowski, posted on social media after her arrest. "Today I was arrested for protesting the Supreme Court nomination of Brett Kavanaugh, a man who has been accused by multiple women of sexual assault," she wrote. "Men who hurt women can no longer be placed in positions of power."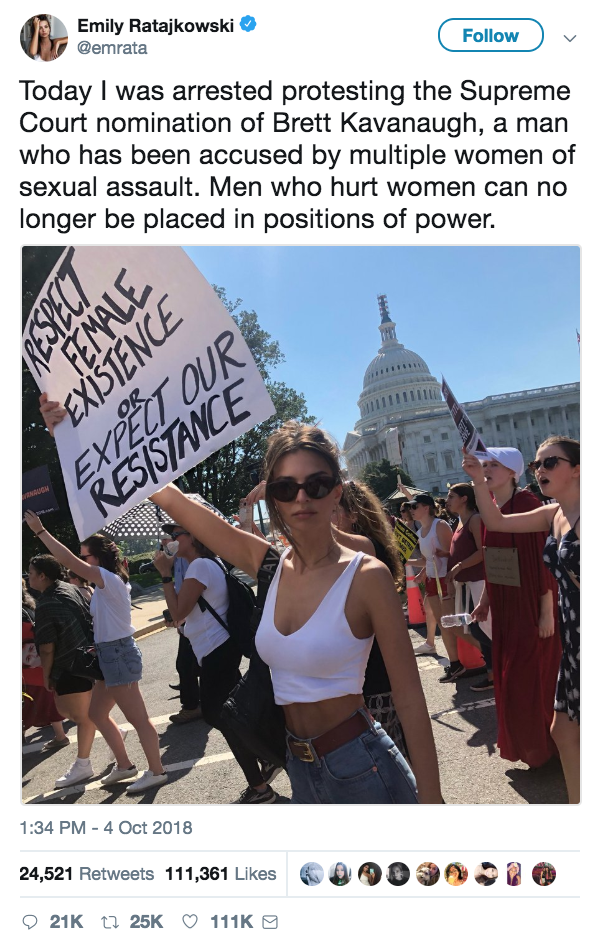 But, Vulture reported on Blurred Lines singer Robin Thicke's own history with abuse.  

After taking Robin Thicke to court over allegations of child abuse, Paula Patton now says her ex-husband abused her as well. TMZ reports that Patton has filed a temporary domestic-violence restraining order against Thicke, which a judge has granted. She cites at least one incident of physical abuse during their nine-year marriage — Thicke allegedly punched Patton in her upper body and pushed her to the ground during the 2013 Cannes Film Festival — as well as various violent threats made toward Patton, including some in front of their son, Julian. According to TMZ, the most recent altercation occurred when Thicke came to Patton's home to pick up Julian for a scheduled visit and he allegedly attempted to bang down her door when she didn't open it. Thicke denies this action.